Kathi's Scandinavian Almond Cake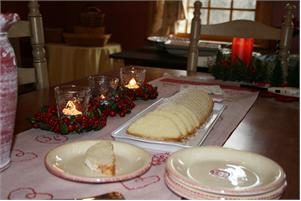 Kathi's Almond Cake recipe is a favorite. She would rather spend her kitchen time baking, rather than cooking. She uses as many natural ingredients as she can, including real butter, whole milk and raw sugar. Kathi's Almond Cake never sticks to the pan and her secret is a little melted coconut oil rubbed on the pan prior to cooking. No sprays for her...
Taste this recipe once and you are hooked!
Ingredients:
1 Cup Raw Sugar
2 Eggs
2 Teaspoons Pure Almond Extract
1/4 Cups Whole Milk
2 Cups Sifted White Whole Wheat Flour
1/2 tsp. baking powder, Pinch of Sea Salt
1 Stick Melted Butter
Directions:
Rub pan with a blend of melted coconut oil and butter.
Beat sugar, eggs, almond extract and milk in bowl.
Add flour, 1/2 tsp baking powder and pinch of salt, mix well.
Add melted butter, mix well.
Bake at 350 for 40-50 minutes.
Edges must be golden brown.
Cool in pan before removing (cake will break if removed too soon)
Sprinkle with confectionery sugar.