Grammy Greta's Swedish Almond Cake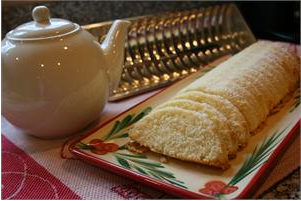 When my parents were both working as a young boy, I would spend afternoons at my grandparent's house, oftem referred to by my parents as Phil and Greta's house. Whenever you visited you would always find Greta preparing a meal, smiling. She used real milk, real butter, a whole lot of love and she and Phil both lived long lives well into their nineties. Greta's recipe for almond cake was the standard everyone in our family used...no matter what version we had during the Christmas season we always remembered Greta's kitchen and her smile!
Ingredients:
1 1/4 Cups Sugar
1 Egg - 1 Teaspoon Vanilla Extract
1 1/2 Teaspoons Pure Almond Extract
2/3 Cups Milk
1 1/4 Cups Flour
1/2 Teaspoons Baking Powder
1 Stick Melted Butter
Directions:
Spray almond cake pan with Pam or other non-stick cooking spray.
Beat sugar, egg, almond extract, vanilla extract and milk in bowl.
Add flour and baking powder, mix well.
Add melted margarine or butter, mix well.
Bake at 350 for 40-50 minutes.
Edges must be golden brown.
Cool in pan before removing.
Cake will break if removed too soon.
Sprinkle with confectionery sugar.