Mrs. Olson's Swedish Almond Cake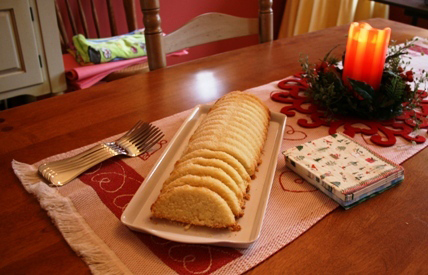 As soon as the wind blew cold we began looking forward to the almond cakes that would soon grace our tables...not to mention the lively debates between my Grandmother and Mrs. Olson as to whose almond cake recipe was better...
Mrs. Olson and my Grandmother shared responsibilities for the kitchen at our church, located across the street from my Grandmothers house. It was always fun to ask either one of them who was in charge, sit back and wait for the fireworks when they each responded...
As a boy I spent a lot of time going back and forth from the house to Sunday school. If I wanted to find my Grandmother I need only look in either kitchen. They were always cooking something. My Grandmothers name was Greta and she made the most wonderful Almond Cakes and I looked forward to collation after church so that I could sample all the sweet treats and goodies that the ladies had made and brought for dessert. According to my mother, Grammy Greta got her almond cake recipe from her friend Mrs. Olson, who got the recipe from her mother, Hilda back in Sweden. Since then, everyone in my family has used a rendition of it, all the time adding or subtracting ingredients to make their almond cake the best anyone had ever made before…not that anyone in my family competes!
Ingredients:
1 1/4 Cups Sugar
1 Egg
1 1/2 Teaspoons Pure Almond Extract
2/3 Cups Milk
1 1/4 Cups Flour
1/2 Teaspoons Baking Powder
1 Stick Melted Margarine or Butter
Directions:
Spray almond cake pan with Pam or other non-stick cooking spray.
Beat sugar, egg, almond extract and milk in bowl.
Add flour and baking powder, mix well.
Add melted margarine or butter, mix well.
Bake at 350 for 40-50 minutes.
Edges must be golden brown.
Cool in pan before removing.
Cake will break if removed too soon.
Sprinkle with confectionery sugar.